In celebration of its Centennial in 2018, The City Gardens Club has committed to raise $150,000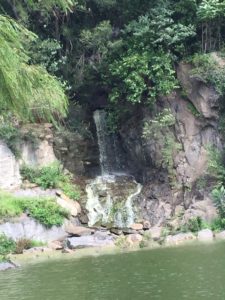 over three years (2016-18) for an urgently needed renovation of historic Morningside Park in Northern Manhattan.  As a capstone for 100 years of funding significant projects in New York City, this City Gardens Club initiative will renew and beautify the park and enhance its benefit to neighborhood residents from a diverse and rapidly changing demographic mix, including local families and children from area public schools.
Like so many city parks, Morningside has fallen into disrepair due to overuse and lack of funds for renewal (see photo below). An official city scenic landmark constructed in 1873 by Olmsted and Vaux, Morningside Park is essentially a 30-acre extension of Central Park stretching north from 110th Street under a steep escarpment beneath the Cathedral of St. John the Divine and Columbia University.
For its Centennial project, The City Gardens Club worked with the New York City Department of Parks to identify an important and meaningful public/private partnership project to continue the club's tradition of supporting underfunded horticultural and beautification programs in underserved neighborhoods. Morningside Park is an important green space in its diverse neighborhood. Its dramatic features are highly visible from the street, and it is also very accessible to transportation. Improvements to Morningside Park have been a high priority of the Parks Department for several years but it lacked adequate funds for the project. Now the club's funds have enabled the Parks Department's professionally designed Morningside Park plan to become a reality, greatly adding to the beauty of the park and improving the surrounding area.
Neglected Urban Landscape
Morningside Park features a large ornamental pond. During Phase I of the project, it was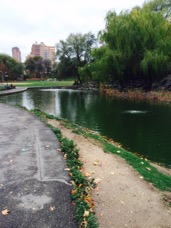 extensively cleared of the invasive species that extended around its perimeter and up the rocky hillside. Much to the delight of the neighborhood, a recently reactivated waterfall now dramatically tumbles into the pond. Other areas of the park still in varying stages of neglect include playgrounds, baseball fields, a handball and a basketball court, grills for barbecuing and picnic tables.
Public/Private Partnership with an Engaged Community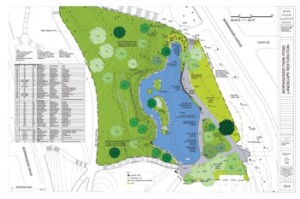 The Parks Department engaged a landscape architect who prepared a landscaping plan for repairing, refurbishing and enhancing the entire park. Now, with our commitment as their funding partner to restore the pond area, the Park's plan for Morningside Park is moving forward. In addition to the removal of invasive species and repair of the waterfall, improvements have included creating a paved viewing area along the soft edge portion of the pond (see photo above) and creating a semicircular boulder seating area for school groups to study pond ecology.
The Parks Department has used its own funds to purchase new pumps for the waterfall, thus freeing City Gardens Club funds for plantings and enhancements in the six-acre focal point around the pond. During Phase II of the project extensive plantings have been completed. The plantings include shade trees in areas adjacent to the pond that create screening and a more distinct pond "zone." Native species of trees, shrubs and herbaceous plants are being selected to strengthen the naturalistic aesthetic, as well as to establish a plant palate of seasonal interest through flower, fruit, and leaf color, and to attract a maximum number of birds, pollinators and people!
A Sustainable Project with Lasting Impact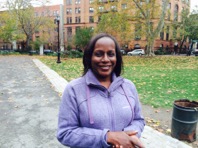 The sustainability of this significant project in the historic Morningside Park will be assured by the stewardship of the Parks Department and its employees, such as Arnyce Foster-Hernandez, Administrator for Historic Harlem Parks, our liaison leader (right). Adequate park staff, as well as volunteers from the community group, Friends of Morningside Park, and from Columbia University will be able to maintain the improvements and implement the ongoing environmental educational component of the plan. The high visibility of the park, the importance of the changing neighborhood, and the sustainability of the environmental and horticultural improvements will all enhance the impact of The City Garden Club's Centennial Project.
——————————
10/27/16 – Completion of Phase I
 The Ribbon Cutting and Daffodil Planting for our Morningside Park Centennial Project took place Thursday, October 27 at 2:30. Due to miserable weather, Parks' efficient staff hastily set up a large tent for the ceremony, and we had a "full house" with over 100 attendees — Parks Department officials, city and state officials, neighborhood activists, school children and a regiment of CGC members and their guests.
School children from PS 129 and PS 86 kicked off the ceremony by reciting a version of "I Wandered Lonely as a Cloud," William Wordsworth's famous  poem about daffodils.  Parks Commissioner Mitchell Silver then spoke, commenting that "The rehabilitation being realized at Morningside Park pond and waterfall, one of the city's most picturesque locations, goes a long way in providing Harlem with a special destination where they can benefit from the restorative power of green spaces.  We are grateful that The City Gardens Club chose to celebrate their upcoming centennial by caring for Morningside Park in this generous way."
Other speakers included Manhattan Borough Parks Commissioner, William Castro; State Senator, Bill Perkins;  Victor Edwards, Vice Chair of Community Board #9, and our own President, Cathy Crane.  Among the special guests were Stephanie Bello representing city council member and parks advocate Mark Levine; Peter Rothschild, the original architect of the waterfall, and Suki Terada-Ports, who played a key role in preventing Columbia from building a gym on our site.
The Ribbon Cutting marked the end of Phase I and the beginning of Phase ll of our three-phase project.  Phase 1 included repair of the edges around the pond, creation of an asphalt wheelchair-accessible viewing area along the pond's east edge, creation of a second boulder-strewn viewing area at a higher elevation on the pond's north side, removal of invasive species from the two islands, and especially from the pond's far side, to expose a dramatic granite escarpment.  During this phase, plantings so far funded by CGC have included 45 new trees (maples, dogwoods, Eastern white pine and tulip trees), some of which will provide a "screen" for highrises to the south, 200 shrubs and almost 1,000 perennials.
Phase ll, now beginning, will include the installation of a new $70,000 waterfall pump being provided by the Parks Department. The waterfall will be fully operational next spring just as the daffodils are starting to bloom.  Phase lll will be completed in 2018 and will encompass more space around the pond.
Thanks to all who so enthusiastically contributed to the success of our project:  landscape architect Peter Eckert, Parks Commissioner Liam Kavanagh, Park's dedicated staff,  including Arnyce Foster-Hernandez, Robert McLean, Brad Romaker, Mercedes Nunez, Marechal Brown, Steve Simon, Bria Mathis, Park's Press Office and Park's Special Events, which orchestrated such a flawless event.  Finally thanks to our intrepid CGC  members who braved the rain and wind to come to 113th Street.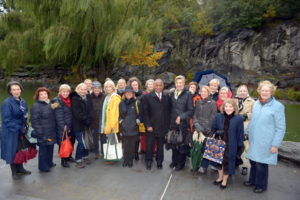 CGC members and Parks Commissioner Mitchell Silver at Ribbon Cutting
 6/19/17 – Completion of Phase II
June 19th marked the long-awaited reactivation of the waterfall in Morningside Park. The City Gardens Club's centennial commitment to "making a splash" was celebrated in a ribbon-cutting ceremony attended by city and parks officials, City Gardens Club members and neighborhood residents.
Manhattan Borough Parks Commissioner William Castro explained the unique geological history that formed the steep escarpment and that inspired the creation of the waterfall by circulating water from the pond below. He officiated at the dramatic countdown to the moment when the newly installed pumps caused water to tumble down from the rocks above. Kudos to all the Parks Department engineers who made this happen.
Other speakers at the celebration included Lisa Meyer from CGC, Brad Taylor from Friends of Morningside Park, Lloyd Williams and Winston Majette, both with the Greater Harlem Chamber of Commerce. All addressed the transformative role of Morningside Park in the community.
Updates by Lisa Meyer, Chairman, CGC Centennial Project
Map provided by Peter Eckert, Landscape Architect for Morningside Park Pond Project