PRESIDENT'S LETTER — SUMMARY OF THE 2016-2017 YEAR
So many plates spinning in the air.  It is a bit dizzying!  Our members have accomplished so much in so many different ways over the past year, it is frankly, awesome!
We began the season with a "Welcome Back" party, graciously hosted by Karen and Henry Glanternik in their lovely apartment overlooking Central Park.  Not only did we catch up with one another and share stories about our summers; we also heard from Bill Castro, Manhattan Borough Commissioner of Parks, about the progress of our Centennial Project in Morningside Park, and he showed beautiful graphic illustrations of the planting plans.
Sheila Kotur made one of my dreams come true.  I wanted us to have interesting evening events that our working members could attend.  Sheila facilitated our members receiving an invitation to an evening lecture series sponsored by the Decorators Club on a subject close to our hearts, "Visionary Landscape & Garden Design."  Nice, and we didn't have to do the planning!
Our Lectures and Trips and Tours have been sensational over the past year.  Judy Steckler as Chairman of Lecture/Teas and Melissa Cook/Bobbie Alkiewicz as Chairs of Trip and Tours have designed such appealing programs and events that attendance has been high and praise even higher!
PROGRESS ON THE CENTENNIAL PROJECT
A Ribbon-Cutting Ceremony on October 27, 2016 marked the completion of Phase 1 of the Centennial Project.  The weather was horrible–cold and rainy–but CGC members were dauntless.  So many showed up that there was standing room only in the tent!  Parks Commissioner Mitchell Silver expressed his department's gratitude to the CGC for its investment in the rehabilitation of this treasured Vaux and Olmsted park.  Your president spoke as did various politicians.  The ribbon was cut in front of the newly installed wheelchair-accessible viewing platform by the pond.  Now free of phragmites and other invasives, the pond and its environs looked lovely.
Reactivation of the Waterfall on June 19, 2017
The Parks Department provided the $70,000 for the pumps that would get the waterfall working again, and they had it all hooked up and ready to go on June 19th. With little advance notice, Lisa Meyer celebrated the waterfall's "making a splash" again by bringing little bottles of water custom-labeled, "Making a Splash."  Manhattan Borough Commissioner of Parks Bill Castro spoke, as did Lisa and Virginia Carry, a Harlem resident and new CGC member.  A clock was set for a count-down and when the time was up, water began tumbling from the top of the rocks and splashing into the pool to the delight of all attending.
Building Support for the Park in the Community
Keen to guarantee that The City Gardens Club investment in Morningside Park will be well preserved, we have had many meetings with local politicians, and members of the Harlem community to enhance community support for the park.
A NEW VENUE
We are moving our Lecture/Teas and our Board Meetings to the New York Junior League next season.  Although we have enjoyed being at The National Society of Colonial Dames for many years, the current administration asked for a daunting increase in price and the right to cancel or postpone any of our events on seven-day's notice.  The CGC Board researched alternative venues and is pleased to report we have found a gracious and reasonable solution at the New York Junior League, at no increase in cost.
UPCOMING EVENTS
Centennial Luncheon at the Boathouse in Central Park on October 18, 2017
Co-Chairs Pat Phelan and Betty Wilson have been busy planning this delightful event, and you should have received a "Save the Date" postcard.  Actually, since it will be a delicious luncheon, the words on the card read "Savor the Date"!  Susan Lacerte, Executive Director of Queens Botanical Garden, will be awarded our historic Medal of Honor.  Lifestyle author and designer, Carolyne Roehm, will be our featured speaker.  And Sydney Minutillo, Sue Malloy and their committee have been assembling an amazing array of raffle prizes.  You won't want to miss this!  Happily, funds raised will support our Centennial Project in Morningside Park.
The Centennial GALA on October 26, 2018
Co-Chairs Bonnie Ford and Maureen Leness are planning a festive, fun event for us at the Metropolitan Club to cap our Centennial celebration.  This cocktails-and-dinner party will NOT be a fundraiser.  It's simply to celebrate your achievements and those of our predecessors.  The City Gardens Club has made an enormous impact on greening and beautifying our city and teaching its children about the wonders of nature over the last 100 years  We deserve to be proud!
IN THE WORKS
Updating our History
As most of you know, on our 85th Birthday in 2003, we published a book of our history entitled, "The First 85 Years," brilliantly edited by Carol Humstone and Janet Desforges, and beautifully illustrated by Sheila Kotur.
For our 100th Anniversary in 2018, it seems appropriate to update our history, reporting on what we have achieved in the last 15 years.  What in the last 15 years of the CGC has been significant to you?  Over the summer we want to gather reports, anecdotes, pictures, whatever you think appropriate to submit.  Please help us make this update informative and entertaining!
Historical Displays for the Centennial GALA
For the grand finale of our Centennial year in 2018, as you know we will have a party at the Metropolitian Club.  We will start with cocktails in the Rotunda, where we would like to display exhibits highlighting our history.  We would like to create an Archives committee this summer to dig out interesting artifacts and stories from sources other than our own.  If you would like to participate in this treasure hunt, please get in touch with me right away.
GOING AND COMING
If you attended the Annual Meeting, you know that an important part of the meeting is to acknowledge and thank those leaders, committee chairs and committee members who are completing their terms.  Treasurer Anne Covell is one.  Not only has she done an outstanding job as treasurer, but she has negotiated a five-year renewal of our lease at 755 Park with an option to renew for another five years after that!  And she is masterminding the painting of our office this summer!
Board members in the "Class of 2017" have now completed their terms.  They are Bunty Armstrong, Cheryl Cieri, Sheila Kotur and Ingegerd Mundheim.  Cheryl, who was completing someone else's term, has now been elected to her own.  Sheila and Bunty will join the Advisory Board.  Ingegerd Mundheim is in poor health; we wish her well.  Bobbie Alkiewicz resigned from the board because she is moving to South Carolina to help her daughter.  The good news is that she didn't resign from the club.  We hope to welcome her back in the near future.  Sally Emery has been elected to take Bobbie's place on the board.
Our new treasurer is Marguerite Morrison, who just completed doing that job at the Cosmopolitan Club.  Incoming board members are Cheryl Cieri, Vicki Hartman, Maureen Leness and Gail Lloyd.
Outgoing committee chairmen are Susan Gooberman for Awards, Patsy Steffan for Grants, Allison Worthington for Nominating, Melissa Cook and Bobbie Alkiewicz for Trips and Tours and Sally Emery for the Web.  It's hard to wrap one's head around all the outstanding, diligent, imaginative and effective work each one of these women has accomplished during her term.  We all have benefitted enormously from their conscientious and creative work.  We all thank you and salute you!
Incoming chairmen are Margaret Harbison for Awards, Vicki Hartman for Grants, Anne Covell for Nominating, Marianne Fouhey for Trips and Tours and Zoe Stolbun for the Web.  We look forward to working with them and supporting their endeavors.
As for those Board members and committee chairs who are continuing their service, we are most grateful for their ongoing contributions to the wellbeing of our club!
For the last two years, I have had the pleasure of working with Donna Russell Cronin, our new Administrative Consultant.  Mother of five daughters, Donna can deal with a lot of simultaneous demands.  She is brilliant at prioritizing and getting things done efficiently.  We are blessed to have her.  At the Annual Meeting, we all offered her our profound thanks, and as a token of our gratitude, gave her a City Gardens Club scarf.
At the Annual Meeting, all chairmen gave reports on the achievements of their committees.  Click here to read those reports.  You will be impressed.  I must say, I am honored to work with women of such commitment and creativity.
Have a great Summer!
Fondly,
Cathy
SEPTEMBER 2016 LETTER TO CGC MEMBERS
Dear City Gardens Club Members,
I hope you all have had lovely summers–relaxing, traveling, seeing friends, enjoying sports, gardening–whatever your pleasures.  It's hard to believe that summer has slipped away so fast, but September is here and with it comes an exciting new season at The City Gardens Club!
Enclosed is the green Calendar for our 2016-2017 year, as well as updated information for your Green Book:  a listing of your Board Members and Committee Chairmen, current Membership Committee information/deadlines, and corrected directory information.
TRIPS AND TOURS
The Trips and Tours Committee, led by Melissa Cook and Bobbie Alkiewicz, has planned some super trips for the fall.  You have received the pink slips, and, hopefully, made your reservations.  There are a few spots still open for the first two trips–the "Gold Coast" and the "Storm King Art Center", but the November 2nd one to St. John the Divine and Morningside Park is fully subscribed.  The good news about that is that the same trip will be offered again in the spring, when our project in Morningside Park will be even further along.
LECTURE/TEAS
Please remember that our Lecture/Tea events now begin at 2 pm.
You can look forward to a stimulating season of Lecture/Teas planned by the Lecture Committee.  Our first will be on Monday, September 26th and will feature the Executive Director of CIVITAS, Jameson Mitchell.  He and his associate Maura Smotrich will discuss "Reimagining the Waterfront:  The East River Esplanade".  On October 24th, Marta McDowell will tell us about  "All the Presidents' Gardens"– how the presidents, the first ladies and their gardeners have changed the White House grounds to suit their tastes.  Yellow postcards, describing upcoming Lecture/Tea events, will be forthcoming.
WELCOME BACK PARTY
For the second year in a row we are having a "Welcome Back" Party to catch up with each other and share stories of our summers, and to hear about the progress and plans for our Centennial Project in Morningside Park.  We will be honored to have William Castro, Manhattan Borough Commissioner of New York City's Department of Parks & Recreation, with us to make a few remarks.  The get-together will be held on Tuesday, September 20th, from 5 to 7 pm at Karen and Henry Glanternik's lovely apartment at 910 Fifth Avenue (at 72nd Street.)  Invitations are in the mail.  Don't miss this happy event!
RIBBON-CUTTING IN MORNINGSIDE PARK
THURSDAY, OCTOBER 27TH AT 2:30 PM
Celebrating the completion of Phase 1 of our project in Morningside Park and the beginning of Phase 2, there will be a ribbon-cutting ceremony on October 27th at 2:30 pm.  Politicians and neighborhood movers and shakers will attend as will local schoolchildren.  Your president will make a short speech, introducing The City Gardens Club, its mission and its history, explaining why we chose Morningside Park as our Centennial Signature Project, and encouraging friends and neighbors to get involved in creating an ongoing structure to guarantee the beauty and security of Morningside Park.  We are told that Parks Commissioner, Michael Silver, will be in attendance along with an awesome singer.
We are also ordering daffodil bulbs that our members can plant along with the local schoolchildren.  You may come in gardening clothes and bring your own children, if you'd like, and dig the dirt with the little folks!  Sally Emery and Cheryl Cieri, who are gardening volunteers at the Conservatory Gardens will lead our planting effort.  Please let them know if you would like to participate.
EVENING LECTURE SERIES!
The Decorators Club (of which our Sheila Kotur is a member) has made one of our dreams come true.  We wanted to be able to offer our working members and those not available for our Lecture/Teas on Monday afternoons the opportunity to attend evening lectures on subjects of interest.  The Decorators Club has given us that opportunity!  It is inviting our members to its upcoming evening lecture series entitled Visionary Landscape and Garden Design–a subject right down our alley (or allee, if you will.)   Here is a brief rundown of the four lectures in the series:
October 26, 2016: John Phibbs will discuss the legacy and imprint of Lancelot 'Capability' Brown.
November 9, 2016: Bunny Williams (a member of the Decorators Club) will moderate a conversation with Architect Gil Schafer III and Landscape designer Deborah Nevins.
April 5, 2017: Miranda Brooks, former editor of houses and gardens for Vogue, will present her acclaimed signature gardens.
April 26, 2017:  Thomas Woltz will address public spaces, including his much anticipated project for Hudson Yards.
The lectures will be held from 6 pm to 7:30 pm at The New York School of Interior Design, 170 East 70th Street.  The Decorators Club invitations to the series will be mailed to you from our offices early in September. The whole series costs $100, but you can buy tickets to individual events, if you'd like.
OUR CENTENNIAL CELEBRATION IS COMING UP
How do you and how does your committee want to mark the occasion?  How might we update the wonderful history of our club that was edited by Janet Desforges and Carol Humstone in honor of our 85th birthday?  Please be thinking about these things and offer your ideas to our office and officers.  We would very much appreciate your input.
Looking forward to seeing you soon!
With thanks and warm best wishes,
Cathy
 PRESIDENT'S LETTER — JUNE 2016
Summary of the Year
We've had an an amazing year and it's not over yet!  The breaking news is that we now have two dynamic co-chairs for our October, 2017, Fall Luncheon:  Pat Phelan and Betty Wilson.  They are already at work getting the event organized.  It is likely to be held in the Boathouse in scenic Central Park when the trees are showing their fall splendor.  Proceeds of the luncheon will support our Centennial Signature Project in Morningside Park.  Pat and Betty would like you to start thinking about the friends you might invite and give their names to Donna.
And there is good news about the Development Committee's Fundraising efforts.  Committee Chairman, Jessica Murphey, reports that The City Gardens Club leadership has pledged or given well over $50,000 to the project so far and that 100% of the leadership of the club has participated!  That is stunning and inspiring.
I want to thank every member of The City Gardens Club for her participation in the life of the club over the past year.  Everything you contribute–be it money,  time, work on a committee, thoughtful suggestions, attendance at teas or tours, pitching in with the Nature Kits, hostessing at the Garden & House Tour, attending the Forum–whatever you've done has made a positive difference in our effectiveness and esprit de corps. Thank you!
At our recent Annual Meeting, I was impressed with the achievements of all of our committees.  I want to commend every chairman and her committee for their good work.
The Awards Committee, chaired by Susan Gooberman, presented the Melville Award to Dr. Mary Leou who was instrumental in the formation of the Environmental Education Advisory Council of NYC.  (Dr. Leou still cherishes the Nature Kit she was given many years ago.)
The Conservation Committee, chaired by Lisa Meyer, ran an enlightening and entertaining Forum last January:  "Feeding NYC:  How 8 Million People Get Their Food."  The forum was a critical and financial success, drawing 17% more guests and revenue than the previous year.
The Development Committee, chaired by Jessica Murphey, offered us two delightful evening events:  the fall "Welcome Back Reception" held at the lovely home of Maureen Leness, and the spring "Painting Central Park" lecture and reception held at the Cosmopolitan Club.  Both were successful and great fun!
The Diplomatic Visitors program, chaired by Elaine Arace, was enthusiastically embraced by UN diplomats' wives who repeatedly enjoyed our Lecture/Teas.
The Finance Committee, chaired by Treasurer Anne Covell, prepared the budget for next year and reports that the club's financial performance is healthy, and that dues and fees will remain at the same rates as last year.  Life memberships in the club will no longer be offered.
The Garden & House Tour Committee, chaired (hopefully temporarily) by Cathy Crane, put together a successful tour this year, despite the loss of its long-time leader, Marguerite Platt.  Participants in the event were particularly thrilled by the opportunity to tour the private gardens in Turtle Bay and to have lunch at the River Club.  Kathy Linburn is to be thanked for making those two things possible as well as the art-filled Harvey townhouse and garden.  Lisa Meyer found the charming townhouse and garden of Alice Gittler.  Marilyn Saltus is to be thanked for finding Patsy Kahn's Park Avenue penthouse, and Daisy Platt (Marguerite's daughter) for recommending Rod Mathey's flower-filled terrace.
The Grants Committee, chaired by Patsy Steffan, awarded 17 grants this year ranging from $500 to $3,000 for a total of $30,000.  Some nonprofit groups who received grants discovered our program on our website!  This year the committee was able to meet its goal of supporting projects in all five boroughs of New York.
Insurance Chairman, Marguerite Morrison, assures us that we are covered with Liability and Directors and Officers insurance, at only an extremely modest increase in cost.
The Lecture Committee, chaired by Sharen Benenson and Betsy Rowe, offered us sensational speakers, many reflecting the season, relating to upcoming trips, or informing us about other important New York greening groups, such as The Battery Conservancy and New Yorkers for Parks.  Attendance was at a high, ranging from 55 to 76 members and guests.
The Membership Committee, chaired by Kathy Linburn and Pat Jones, shepherded 9 new members into our ranks.  All are outstanding achievers and we are eager to enjoy their company and benefit from their talents.  The new members are:  Cora Lee Five, Deane Gilliam, Ruth Henderson, Amanda Holmen, Gale Kroeger, Sharon McGavin, Joanne Miuccio, Mary Thomas and Pat Voehl.
The Nature Kit Committee, chaired by Judy Steckler and Suzie Crabtree, organized, produced and distributed 150 Nature Kits this year.  Most of the membership is involved in this annual project.  Please know that your efforts are greatly appreciated by New York City public school teachers and the students in their classes.
The Nominating Committee, chaired by Carol Humstone, offered the club an excellent slate of officers and board members for next year, all of whom were duly elected at the Annual Meeting.  Wendy Enright is our new First Vice President and Judy Steckler is our new Recording Secretary.  Taking the Board seats that these two officers have vacated are Cheryl Cieri and Bonnie Ford.  And the four new Board members for the Class of 2019  are Marsha Ambler, Susan Gooberman, Patsy Steffan and Zoe Stolbun.
The officers and board members who have completed their terms are Maureen Leness, First Vice President, Laurie Hallen, Recording Secretary, and the class of 2016: Sally Emery, Susan Gooberman, Carol Humstone and Lisa Meyer.  Susan Gooberman was completing someone else's term and is now elected to her own.  The others have been invited to serve on the Advisory Board.  We don't want to lose the talents of these committed and productive people!
The Scholarship Committee, chaired by Cheryl Cieri, awarded 19 scholarships to NYC public school teachers to ecology programs run by the Audubon Society, the New York Botanical Garden, Brooklyn Botanic Garden, Queens Botanical Garden and the Horticultural Society of New York.  At a celebratory tea in June, the winners met the committee members, and the other awardees.  Two recipients were from Staten Island (a borough that hasn't been represented lately) and several found us on the web.
Nancy Nightingale, Tea Chairman, says she benefitted from a bevy of volunteer "pourers" who have added charm to our gatherings.  The tea sandwiches and cookies are still popular.  Combined with excellent lectures, the teas are a tradition that the members of The City Gardens Club appreciate.
Allison Conway Worthington, Chairman of Trips and Tours, reports that her committee organized 7 trips this year.  All were well attended and outstanding.  The September Hudson Valley trip toured Manitoga, the Russel Wright Design Center and Boscobel. Other visits included the Central Park Reservoir, the U.S. Custom House and Museum of the American Indian, a viewing of gardens and landscapes in paintings at the Met led by new member, Ruth Henderson; a trip to Andalusia, the historic Biddle family estate, a visit to Greenwood Gardens and the Reeves-Reed Arboretum, and finally a visit to the Impressionism show at the New York Botanical Garden.
Sally Emery, Chairman of the Web Committee, reports that our site is getting good use. The public can learn about our grants and apply for one using the form on our website. New York City public school teachers can learn about our natural science workshops and use the sophisticated online application.  Members can research the process for proposing someone for membership or look up a fellow member's contact information. They can find our calendar events, dates and times and they can download forms:  the membership application, the trip and tour waiver, and the form for making a donation. We hope that more and more members will make use of our excellent website.
Our committee chairmen and their committees deserve congratulations for serving our priorities so successfully.  Thanks to them, our programs not only hummed but were fun!
I want to wrap up this long letter by mentioning that we started the year with a Board Retreat at which we determined  to communicate better with the membership and the community.  We now start our Lecture/Teas at 2 pm so we have a half hour discuss internal business.  We have created more social occasions, opportunities to share ideas and enjoy one another.  We have invited the Horticultural Society of New York to be an Affiliate Member of The City Gardens Club.  We have encouraged committee chairs to create notebooks to aid their successors.  Our Centennial Signature Project in Morningside Park is under construction.  The Development Committee is raising the needed funds.  Lisa Meyer is leading a huge initiative to reach out to the community around Morningside Park to urge civic leaders to join us in the beautification and ongoing maintenance of the park.
Finally, I want to acknowledge the tributes The City Gardens Club has paid to its fallen leaders.  A majestic American Elm has been adopted, and a granite paver placed, in Central Park in honor of Past President Lee Van Dyke.  Marguerite Platt's name will stay associated with the tour she did so much to nurture.  The Garden and House Tour luncheon is now named "The Marguerite Platt Memorial Luncheon" in tribute to her.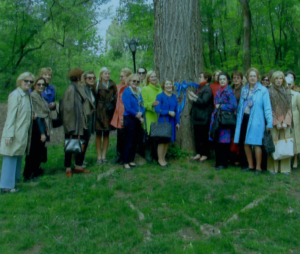 Phew!  What a year! Please know that you are greatly appreciated not only for your accomplishments but for the pleasure of your company on our teams.  Now, do take a break and enjoy the Summer!
Fondly,
Cathy
PRESIDENT'S LETTER
FEBRUARY 2016
I am so impressed with the quality and conscientiousness of our members.
So few people accomplish so much.  It is truly a pleasure to be associated
with you all–brainstorming, making plans and making things happen!  You
do warm my heart!  Happy Valentine's Day!
The Roster for our Spring Garden & House Tour is Complete!  Hooray! 
I emailed all members who use email February 1st to ask for help in finding
a penthouse to complete the Benefactors part of our spring fund-raising
event on May 17th.  On Wednesday, February 10th, I got a call from
Marilyn Saltus, asking if I could be available the next day at 4 to look at
a penthouse possibility.  I made myself available and so did Bonnie Ford,
and we were wowed.  You will be too!  Our roster is now complete and we
have a great tour planned.  Two beautiful Upper East Side penthouses with
gardens in the morning.  A lovely, light lunch at the River Club, and then an
afternoon of townhouses and terraces in the Sutton Place/Turtle
Bay/Beekman Place neighborhood in the afternoon.  It will be a great day!
Thank you all for racking your brains to think of friends and friends of
friends who have beautiful penthouses we might visit.  Please keep our
need for these locations in your consciousness constantly, and let me
know at any time of any inspirations you have.  Members of the Garden &
House Tour committee will follow up your leads to construct future exciting
expeditions!
Also, since the Garden & House Tour is a major fundraiser supporting our
Grants, Scholarships and Nature Kits, it is important that we encourage our
friends to come and enjoy this privileged peek into people's private homes
and serene, green gardens.  Never mind that you will probably be a hostess
at some location, your guests will have their own entree, carrying
a ticket with your name on the back.
Our Forum was a Smashing Success! 
The Conservation Committee, led by Lisa Meyer, is to be congratulated for
a relevant and riveting program.
Here is Eleanor Peterkin's excellent report on it:
On January 13, 2016, the Conservation Committee hosted its annual
forum – Feeding NYC –How 8 Million People Get Their Food at the New
York School of Interior Design, with approximately 130 attendees (including
66 members).  The two-hour program consisted of an expert panel of six
speakers.
Ricky Wong – NYC Department of Health and Sanitation, kicked off the program, discussing food safety criteria and the assignment of the  famous
letter grades (94% of restaurants are rated A). He suggested using a phone
app to check the status of "Pending" ratings. He noted inspections do not
cover vending carts and institutional food services; he urged caution about
sanitation standards at holiday parties.
Eric Goldstein – School Support Services, NYC Department of 
Education focused on the challenges of feeding one million children daily
in a healthier and cost effective way. Started in 1947, the school lunch
program aimed to address the poor nutrition of WWII young soldiers. The
addition of classroom breakfast, varied menus and Local Thursdays has
improved eating habits and raised academic results.
Kate MacKensie – City Harvest explained their goal was to reduce
underlying causes of hunger. City Harvest trucks collect surplus food
(mostly perishables) from sources like restaurants, green markets and
Fresh Direct to supply soup kitchens feeding one and a half million people.
By partnering with local authorities, their 2030 goal is to reduce food waste
by 50% to feed everyone and eliminate hunger.
Gerard Lordahl – GROW NYC reported he has spent the last 20 years
focused on community gardens and educating neighborhoods to eat better.
With the loss of one farm every three and a half days, this group works with
130 farmers markets. It introduced youth markets, after church markets and
Health Bucks $5 coupons. In 2015, the Bronx Via Verde market, alone,
distributed 1,000 lbs of fresh produce.
Jennifer Rothman – Stone Barns, Potantico Hills, is responsible for
educating children and their parents about healthy farming and cooking on
an 80-acre working farm. Mobile kitchens enable them to bring gardens to
high schools – where students readily become advocates of nutrition and
fresh food.
Richard Corzine – Union Square Hospitality Group shared his 20-year
partnership with Danny Meyer to create iconic well-valued, "favorite"
neighborhood dining experiences. He explained Shake Shack was
developed in collaboration with the Parks Department to help upgrade
Madison Square Park.  "Untitled" at the new Whitney Museum has evolved
to become a welcoming destination, beyond weekend brunch.
The Horticultural Society of New York has accepted our invitation 
to become an "Affiliate Member" of The City Gardens Club.
The Board has resurrected the category of "Affiliate Member" mentioned in
our By-Laws but which hasn't been in use in recent years.  Section III of our
By-Laws reads:  "Affiliate membership.  An organization interested in the
objectives of The City Gardens Club may be elected to an Affiliate
membership and shall be liable for dues as fixed by the Board of Directors,
but shall not be eligible to vote."
At the recommendation of the Board, the CGC President wrote to the
Chairman of the Board of the Hort, inviting that organization to become an
Affiliate Member of The City Gardens Club.  We received the following reply:
"On behalf of the staff and the Board of The Horticultural Society of New York,
I'm delighted to accept your invitation to become an Affiliate Member of The City
Gardens Club of New York City, in honor of the sustained relationship and shared
goals of our two organizations."
I look forward to our continued collaboration in our efforts to make New York
City a greener, healthier, more beautiful place to call home."
A potential goal of reinstituting the category of Affiliate Member is to allow
CGC members to increase interaction with the principals of other like-
minded organizations.  We might want to keep this in mind as our plans
develop for our Centennial project.
Lee's Tree
Contributions in memory of our beloved Past President Lee Van Dyke have
amounted to about $5,000–an amount that would allow us to "adopt" a tree
in Central Park in Lee's name and to place a granite paver in her memory on
Literary Walk at the end of the Mall.  Since Lee loved trees, birds and
books, the Board thought this would be a fitting memorial to Lee, and
approved the expenditure.
The tree that has been selected to be "Lee's Tree" is a majestic American
Elm in great health, located by intersecting paths in the Ramble off 79th
Street.  We will plan a trip to visit "Lee's Tree" in the spring and perhaps
have a picnic there.  There is a rustic log bench nearby where Judy
Steckler remembers sitting with Lee, admiring this tree.
The "Marguerite Platt Memorial Luncheon"
Your Board has been considering what to do to honor Marguerite Platt who
brilliantly masterminded and organized our Garden and House Tour for 14
years.  At its February meeting, the Board voted to name the luncheon at
our annual garden and house tour "The Marguerite Platt Memorial
Luncheon" so that Marguerite's name will continue to be associated with
the program that meant so much to her–and to us!  The Board had also
agreed to run any idea for honoring Marguerite by Marguerite's family to
be sure that they approved.  Marguerite's daughter Daisy told me that the
family would be delighted that we are honoring her mother with this
designation.
Keep warm and cozy and enjoy noticing that the days are getting longer.
All best,
Cathy
P.S.  Don't miss our February 22nd Lecture/Tea.  Not only will our
featured speaker, Warrie Price, be telling us how she created a
Sustainable Garden–even after Superstorm Sandy–at the Battery,
but Peter Eckhert will give a short slide show, explaining our plans
for our Centennial Signature Project in Morningside Park!
NOVEMBER 2015
Our Centennial Signature Project is Getting Underway!
"The Morningside Park Project" was chosen officially and unanimously at our October Board Meeting to be our "Centennial Signature Project"!  Lisa Meyer, Chairman of the Conservation Committee, had made a presentation to the Board last spring, recommending Morningside Park as our Centennial Signature Project and noting that the project met all the criteria established by the Planning Task Force.   The Board liked the idea.  This fall, the Parks Department submitted a proposal to the Board describing the work to be done, centering around the Morningside Park pond.  After the October Board Meeting, we were happy to report the Board's official approval of the project to the Parks Department.
Clearly, the Parks Department went right to work!  Some members of the Board, the Conservation Committee and the Development Committee met with 10 members of the Parks Department, including Commissioner Liam Kavanagh, the day before our November Board meeting.  Landscape architect, Peter Eckert presented us with a slide show identifying and explaining the sequential stages of work to be done.
The next day, after the November Board meeting, some members of the Board and Coco Hoguet Neel of the Development Committee took cabs up to Morningside Park to look at the site where the work will be done.  Arnyce Foster-Hernandez, Administrator of all the Historic Harlem Parks, met us there even though it was Veteran's Day and a holiday for her.  She walked us around the site and explained what would happen where.  For example, trees will be planted to block out the view of tall buildings; benches will be moved to afford beautiful views of the pond and the waterfall.  Boulders will be placed in a circle to seat children for educational events.  Abundant plantings will provide beautiful colors and textures in every season.  The project is multi-faceted and exciting!
Now we need to raise the money to make it happen.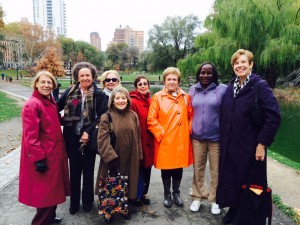 Left to Right:  Margaret Harbison, Lisa Meyer, Bobbie Alkiewicz, Laurie Hallen,
Judy Steckler, Wendy Enright, Arnyce Foster-Hernandez, Administrator, Historic
Harlem Parks, Cathy Crane
Grants Committee Helps to Save the Monarch Butterfly
On Saturday, October 17th the Grants Committee had a first-hand opportunity to see how their $2,000 grant to the Roosevelt Island Youth Program, Inc. was being put to work.  Through the iDig2Learn Urban Metamorphosis project, a garden of milkweed plants, which monarch butterflies heavily rely on for sustenance, was created.   The garden will serve as an essential corridor through which these butterflies, which have experienced a severe loss of habitat, can migrate south.
This was the first time that The City Gardens Club has awarded a grant to the Roosevelt Island Youth Program.   Nearly 200 people came to Roosevelt Island Lighthouse Park to participate in the planting project.   The photos below show how a community came together for a fun and vital project on a perfect autumn day!
Invitation to a Garden Party from The Colonial Dames of America
Members of The City Gardens Club have been invited to attend the 2016 Annual Garden Party at the Mount Vernon Hotel Museum at 421 East 61st Street on May 1st, 2016.  The gardens surround the eighth oldest building in New York City.
Attendees are encouraged to wear festive dress and hats!  There is a modest charge of $15 for the event.  If you are interested in attending, please email me at C3Crane@aol.com.  I will submit your name to the Colonial Dames for their list of guests at the door.  The Colonial Dames look forward to welcoming us to their lovely gardens.
Our work makes a difference!   Read these unsolicited and heart-warming testimonials 
In a few weeks' time we have heard three unsolicited and heart-warming testimonials.
At our October Lecture/Tea, Leslie Day, author of "Field Guide to the Neighborhood Birds of New York City", began her talk by noting that she had received a scholarship from The City Gardens Club twenty years ago to attend the Audubon's workshop when it was in Greenwich, Connecticut.  She said that that workshop inspired her Master's thesis for which she "used" Central Park.  Dr. Day has taught middle school science and has written two other "Field Guides–one to the Natural World of New York City and another to the Street Trees of New York City."  She leads nature tours in New York City Parks for a variety of organizations.  Clearly, her scholarship experience was inspiring!
On our Friday, November 6th H2O Tour of Central Park Reservoir, Matt Malina, originator of the NYCH2O program confessed that he was a "City Kid from the Lower East Side" and knew nothing about nature until he received a CGC scholarship to go to the Audubon Workshop at Hog Island in Maine.  He said that "changed his life."  Now he is committed to teaching New York City kids about water, about the amazing engineering that brings it to our city and the source and history of our reservoirs.  NYCH2O provides educational tours to NYC school children and is a CGC grant recipient.
At our November Lecture/Tea we were privileged to give the Melville Award (which recognizes excellence in science and environmental education) to Dr. Mary J. Leou. Dr. Leou was an early member of the Environmental Education Advisory Council of New York City, and its chair for over 20 years.  (She remains a member of this important organization.)
In accepting the award, Dr. Leou mentioned that she had received a Nature Kit when she began her career as an envirnmental educator in Inwood Park.  "The Kit was like a treasure chest filled with natural objects that sparked curiosity and connection to nature. I shared the objects with many children including my own! Over the years I distributed Kits to teachers to start them on their own journeys through the natural world." Dr. Leou has cherished and kept her kit all these years.  (Judy and Suzie are now giving her new ones.)   Dr. Leou thanked The City Gardens Club not only for honoring her with the Melville Award but for inspiring her over the years.
I am hugely grateful for the good work you all are doing for The City Gardens Club and for the benefit of our city and its citizens–large and small.
Happy Thanksgiving to all!
Best, Cathy
October 2015
SEPTEMBER BOARD MEETING HIGHLIGHTS  AND OTHER THOUGHTS
Money:  Treasurer Anne Covell reported that due to new members' initiation fees, successful, well-subscribed trips, and a huge outpouring of gifts in memory of Lee Van Dyke and Marguerite Platt, the actual income figures for Fiscal year 2014-2015 far exceeded the planned budget.
Awards:  Dr. Mary J. Leou was unanimously approved as the Melville Award Winner.  She will receive the award at our November Lecture/Tea. Dr. Leou played a major leadership role in the development of the Environmental Education Advisory Council (EEAC) which is committed to supporting outstanding environmental education in New York City schools and other centers for learning.  Susan Gooberman noticed that many of our past Melville Award winners are part of the EEAC!  Dr. Leou has been the driving force of this organization since 1974.
Conservation:  The Conservation Committee has been researching an appropriate Centennial Signature Project for us for over a year.  After exploring many options, (doing its due diligence) the Committee, along with the Parks Department recommend that our project be Morningside Park in Harlem.  The park features a dramatic lake and waterfall which we can enhance for the pleasure of the changing and diverse neighborhood.
The Conservation Forum, planned for January 13, 2016, is "Feeding NYC — How 8 Million People Get Their Food" will be held at the New York School of Interior Design.  Mark your calendars.  If you have friends/acquaintances who would be interested in attending, please give their names to Margaret Harbison asap.
Garden & House Tour
We are planning to have our tour this year in the Sutton Place/Beekman Place/Turtle Bay area.  If you know of any smashing penthouse gardens or townhouse gardens in the area, please call me and let me know!  I would be delighted to have some good leads!  We are sorely missing Marguerite Platt who led this committee for 14 years.  If you have an interest in serving on this committee or being its leader, please let me know. I would be ecstatic to find a leader for this committee!
Lectures
The new Lecture Co-Chairs are off and running.  We had a delightful  event last Monday with Stephen Miller of Historical Boscobel.  In  October we will learn about NYC birds!  Don't miss these fun events.
Membership
Please think of friends who you think would enjoy being active members of the CGC.  We got a great new crew last year, and would like to do more of the same.
Nature Kits
The office is overflowing with boxes of specimens of all sorts.  THANK YOU ALL FOR YOUR CONSCIENTIOUS CONTRIBUTIONS!  The committee will assemble 150 kits this year.  Put Boxing Day on your calendar.  It will be on Wednesday, November 18th, and it is always organized chaos and great fun!
Trips and Tours
The trip to the Hudson River last Thursday was delightful.  Manitoga, Russel Wright's creation, was a wonderful surprise.  Trained as a set designer, he manipulated the landscape around an abandoned quarry, creating a beautiful lake, a waterfall and enclosed or open outdoor "rooms." His house was integrated into the landscape and made inventive use of materials, modern at the time.  Boscobel was sited with an amazing view of the Hudson River and the gardens were fairly formally conceived and beautiful.  The home was furnished with American antiques, including imaginatively concealed commodes!  With funds contributed by Lila Atcheson Wallace of Reader's Digest fame, everything was in perfect order.
Old Business
We are thinking of ways to honor our lost members, Lee Van Dyke and Marguerite Platt.  A recommendation for Lee is to adopt a tree in Central Park along with having a memorial paving stone placed on Literary Walk.  This seems to be an appropriate idea since Lee loved Central Park, trees, birds and books.  A suggestion for Marguerite is to name the Garden & House Tour after her.  Other thoughts?  Please do share your ideas about appropriate memorials.
New Business
It was suggested at the Board Retreat that each committee have a notebook containing a job description for the chairman, a description of the committee's work, procedures, timelines, and relevant contacts.  This notebook would give a new chairman something substantive to work with. Please help your chairman put together such a notebook for your committee.
Another major suggestion at the Board Retreat was to improve  communication between the Board and the membership.  This needs to be a two-way conversation, so please don't feel shy about sharing your thoughts with Board Members.
Happy Fall to you all!
Best,
Cathy
July 2015
Dear CGC Members,
You have a new crew in the office.
Margaret Harbison has passed the President's gavel/baton/magic wand to me, and Nancy Hauber has kindly oriented our new Administrative Consultant on our office procedures.
Meet Donna Russell Cronin, our new Administrative Consultant. 
Donna is a native New Yorker and a Spence graduate.  She went on to Smith College, and graduated Phi Beta Kappa.   Mother of five, Donna is resourceful and versatile.  In addition to her other talents, Donna is a chef and a creative costume designer for theatrical productions. Having run her own business in the past, Donna has taken to work in our office as a duck to water.  She says, "I'm happy to be a part of such a wonderful organization."  We are delighted to have her!
Office Hours
Donna and I will be working in the CGC office on Wednesdays during the summer. Come fall, we will resume the normal Monday office schedule, 10 am to 4 pm.
Please Save the Date.
On the evening of Tuesday, September 15th, from 5:30 to 7:30 pm, there will be a Members-Only "Welcome Back" Reception at a generous member's home.
The idea is to gather us together for fun and to get us prepped for an exciting new
season.  Mark the date on your calendar.  More information will be forthcoming.
Visit our Website
Do check out the CGC website, if you haven't already.  The website address is citygardensclubnyc.org.  To get into the "Members Only" section, type your last name.  The password is francespeters.  Our website is gaining traction.  Three of this year's grant recipients found us through our website!
Enjoy the Summer!
Warm best wishes,
Cathy Crane
Your New President